FOF - #L-847 (Purchased from Sasa Hong Kong Store)
Cutex - Cappucino
Possible Dupes for: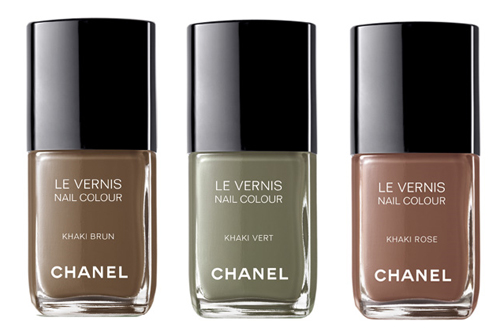 Chanel LES KHAKIS DE CHANEL - Chanel Khaki Rose
Lancome - Violine
OPI - We'll Always Have Paris
These are my all-time favourites. They both have red undertones, but next time I might try to find a even deeper purple color with blue or black undertones.
♥Chrome♥
Revlon - Limited Edition - Glided Chrome
Possible Dupes for:
YSL "Manicure Couture Duos" - Belle de Nuit.
Retails for $38CDN at Holt Renfrew.
I actually got this set for my good friend for her birthday. She's super in love with it! =))
(
http://beautybooty411.blogspot.com
)
This color is probably my only grey and I love it so much!! It's creme grey with a tint of shimmer.
I decided I would finally do nail polish swatches at last. I never did swatches before because: 1) I always did my very fancy nails (some of you know, I do Japanese gel nails with all the 3D designs myself) and because 2) I don't like nail polish on my natural nail (it yellows my nails). I also tried to do it this one time, but when taking photos, my fingers looked so awkward so I gave up. However, with the amount of school work and many professional conferences in these 4 months, I decide to do a simple Gel overlay (clear) to my nails. By doing gel overlay, I can have pretty healthy nails and also save time. I usually take 4-5 hours doing my Japanese Gel nail designs!! I really don't have that much time for it now. I will do those again in January though!
I hope you guys enjoyed this post! In the future, I might try to some nail polish tutorials on blog or youtube! Stay tuned!